Robinhood has become immensely popular in the United States since they offer commission-free trading and they also do not require any sort of minimum account balance. This is very appealing to young investors who don't have a lot of capital to start with. Some other brokerages have fees of around $6-7 per order, which doesn't make sense to do if you are only going to be making orders in the hundreds – rather than in the thousands. The platform is very appealing due to its simplicity and 'game-like' platform that is primarily used on mobile phones, however they do offer a fully functional web platform. Although one thing to note as they don't offer the same kind of research tools as other brokerages. Now, this all sounds great for investors that don't have as much capital – apart from the fact that it is not available in Europe (their UK launch has also been postponed indefinitely).
When I was searching for something similar to Robinhood, I discovered a platform called Trading212 – a platform that I have now been using for close to 2 years (if you use this link, we both get a free share! So we both benefit if you sign up through here). Trading 212 offers very similar desirable functions to Robinhood. These include:
Commission-Free Trading
No fees
6500+ global stocks and ETFs
Fractional shares (option to not buy the whole share but only 0.5 shares for example)
Unlimited Instant Trades
Auto-Invest function
Not only do they offer these very attractive features, they also offer CFD trading which is similar to the options trading that is offered by Robinhood. One thing I want to make clear by using the CFD investing mode, is that it allows for leverage – which I wouldn't use unless you really understand what you are doing. Leverage essentially means that you can trade with multiples of the capital in the account, i.e. trading with their money. To exemplify this, this means that you could put in 100 euros and be trading with leverage of 100 times, which means your100 euros would allow you to trade with 10,000 euros (100 times 100). This CAN greatly amplify profits, BUT can also greatly amplify losses. Personally, I would avoid it, as if you don't understand what you are doing, you can end up in debt. By using the invest part of Trading212, you are buying the shares outright and you can't lose more than your account is worth!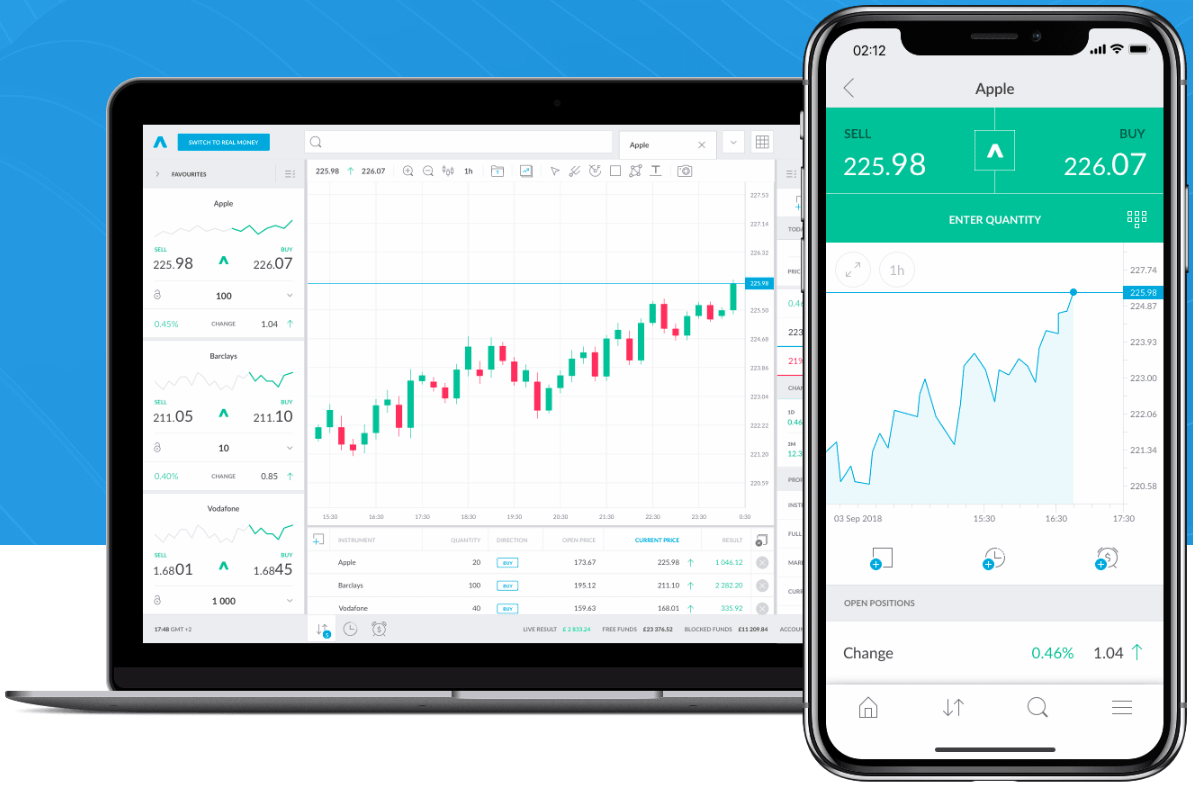 One thing that Robinhood has that Trading 212 doesn't, is the option of extended-hours trading. However, this is 30 mins before market opens, and 2 hours after market closes – so the extended hours, just aren't that extended… The other thing with Trading212 is that signing up can be a bit tedious with uploading identification, however it only took about a day to get verified. After getting past this initial hiccup, everything has worked flawlessly. Orders have been executed very quickly, which is extremely beneficial when you want to trade quickly. It also allows you to day trade without having a minimum balance of $25,000, which is requires for day traders in the USA (due to financial regulation in the United States).
For Trading212, both the web platform and mobile app have been extremely functional for me. I have never had any issues with either platforms crashing. Furthermore, I use an iPhone, and the app has a widget that I can put in my today view that shows the profit/loss on each of your open positions. A very handy feature to have if you don't want to continue to open the app.
Conclusion
Overall, Trading212 is the closest platform that you can find to Robinhood in Europe. They are continuing to add to their list of available securities, and extended hours is in the pipeline – although no date has been confirmed. In my opinion, it is worth getting past the tediousness of sign up, in order to get access to a platform that is consistently growing and already offering great features. The platform is definitely Europe's Robinnhood.
If you do decide to signup to Trading212, then if you use this link, we will both receive a free share!